November 14 (thu.)
15:00〜16:00
「Exhibition Hall 6」
【DCEXPO2019】Introduction of the latest VR research in Japan and the US
In this seminar, we welcome our guest lecturer Ms. Danielle Belko from Facebook and hear from her about the latest research into VR conducted by her company. Ms. Belko is Emerging-Technologies Chair at SIGGRAPH 2020 where the cutting-edge technologies, which haven't been put into practical use yet, will be demonstrated and exhibited. We also have a moderator Professor Michitaka Hirose, who is known as the pioneer of VR research in Japan, with us and he gives his update on the ongoing research at the University of Tokyo.
Panelist
Danielle Belko
Emerging Technologies Chair
SIGGRAPH 2020/Technical Program Manager, Facebook Reality Lab.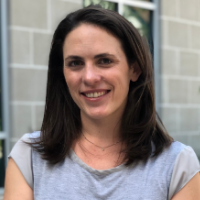 Moderator
Michitaka Hirose
Professor, Graduate School of Information Science and Technology,
The University of Tokyo Director, The University of Tokyo Virtual Reality Educational Research Center